IF YOU'RE ORDERING FOR 2 OR MORE PEOPLE, EACH ORDER MUST BE PLACED SEPARATELY
Professional custom and quality bleaching trays you would get from a dental/orthodontic office -skip the middleman to save time and hundreds of dollars

Optimize teeth whitening 

Comes with 2 bleaching gel syringes containing 3ml of 35% carbamide peroxide with a two-year shelf life - 6 whitening applications (top & bottom)

Fights stains from coffee, tea, wine, or smoking

60-day warranty, 100% satisfaction guaranteed

Amazing customer service


NEED HELP? DON'T HESITATE TO CALL US AT

 801.610.1358
_____________________________________________________________________________________________
YOUR ORDER WILL INCLUDE: 
3

 SETS OF IMPRESSION PUTTY

*

3

 UPPER AND

3

 LOWER IMPRESSION TRAYS (SMALL, MEDIUM, AND LARGE)

1

 SHIPPING BOX FOR RETURNING YOUR IMPRESSIONS

1

 PREPAID RETURN SHIPPING LABEL (ATTACHED TO THE RETURN BOX)

1

CUSTOMER ORDER INFORMATION SHEET

2

 BLEACHING GEL SYRINGES WITH 3ML OF 35% CARBAMIDE PEROXIDE (2-YEAR SHELF LIFE)
*

EXTRA PUTTY STRONGLY RECOMMENDED

- CLICK HERE 

TO ADD MORE
Some of our customers end up needing extra putty because they mess up the first time -call it a practice run. We're not trying to make money off the putty. It's just much more affordable and time-effective for you to order more now (with your original order), rather than later! If you don't use it, return it and we'll refund your money.
_____________________________________________________________________________________________
ABOUT CLEARRETAIN'S CUSTOM BLEACHING TRAYS
Custom bleaching trays optimize the teeth bleaching process and allow for touch-ups as you deem necessary. Using custom trays decreases the risk of gel irritating your gums and ensures coverage of your teeth's nooks and crannies. Follow the process for up to two weeks to achieve the desired level of whiteness.  ClearRetain's bleaching trays & whitening gel are one of our many convenient and cost-effective ways to help you maintain your ideal smile. Every bleaching tray comes with a 60-day 100% satisfaction guarantee. Although form-fitting, bleaching trays do not act as retainers and will not prevent your teeth from shifting.
HOW IT WORKS
After ordering the bleaching trays online from ClearRetain, you will be sent a dental self-impression kit. Included in the kit are upper and lower dental impression trays, impression putty, and a prepaid postage label attached to a return box for mailing back the self-taken impressions. Your personalized bleaching trays will be fabricated in our dental lab using your self-taken impressions within a few days after receipt and the finished product will be shipped directly to you. The whitening gel will be shipped with the finished product, not the impression kit.
Please email our expert staff to get the approval of your impressions before shipping the impression. Easy-to-follow instructions and videos are available to guide you in the right direction. 
_________________________________________________________________________________________
WHITENING INSTRUCTIONS:

Floss and brush teeth thoroughly

Twist the syringe cap and remove it. 

Place a small bead of whitening gel on the inner front surface of the tray. Do this for the front 6-8 teeth as no one sees the molars.

Place the tray in your mouth being careful not to push gel out of the tray

As part of the whitening process, bubbling is normal at this point

Remove excess whitening gel with a finger or a clean cloth, and avoid all direct contact with gums

Leave the tray in your mouth for twenty minutes

After twenty minutes remove the tray from your mouth, rinse and brush your teeth to remove any excess gel

Thoroughly clean the whitening tray

Perform this procedure as often as 1x a day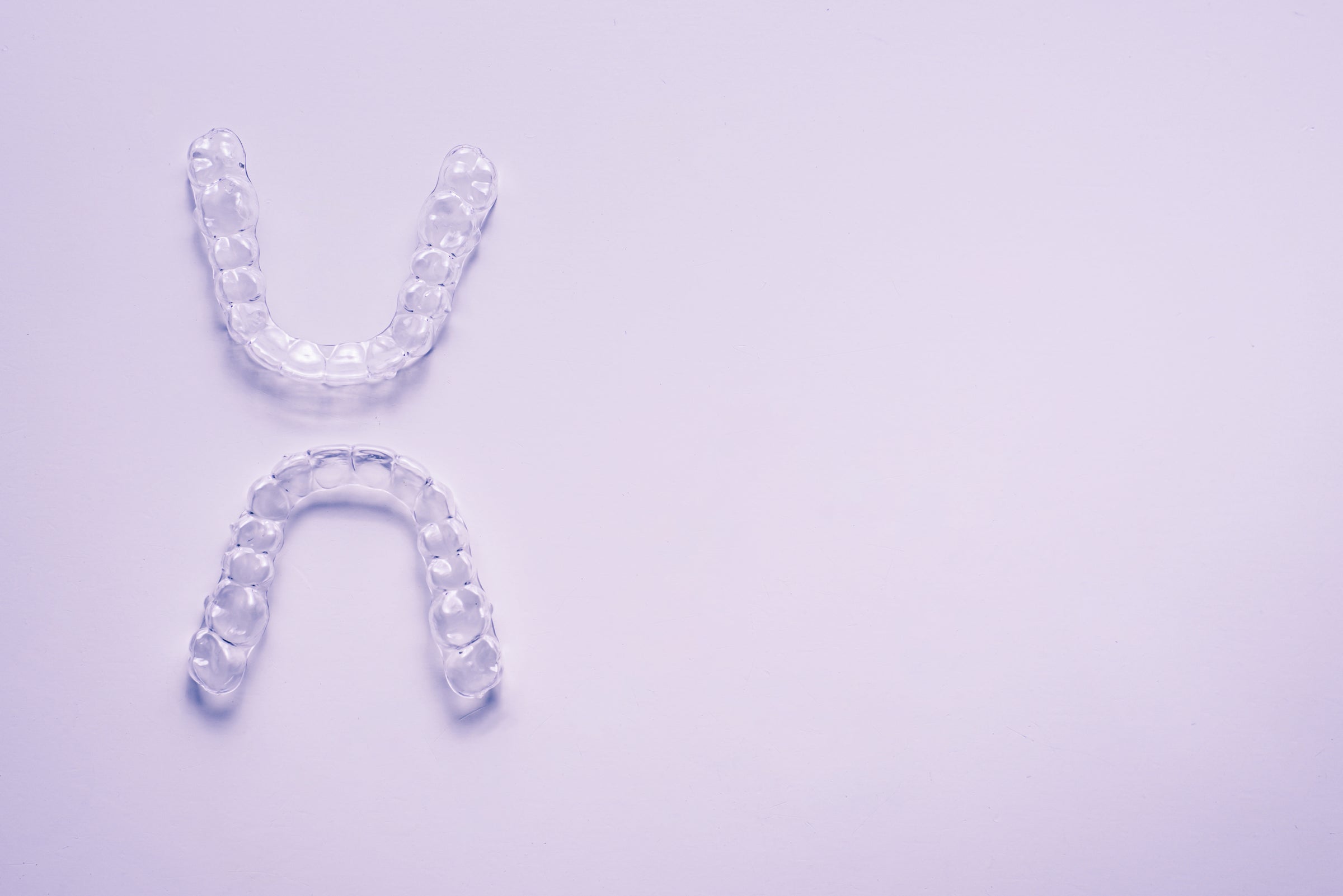 The average retainer cost in the U.S.A. from a dentist or orthodontist is $300. By going with ClearRetain you'll save time and money by taking a simple impression of your teeth at your convenience. We then create the retainer for you at a fraction of the cost. If you are not happy with your retainer within the first two months, we'll either remake it for free or provide a full refund. In addition, we use the latest techniques in positive pressure vacuum forming to create a perfect-fitting retainer. If your doctor or a competitor is using generic technology to make your retainer, don't accept them. They simply will not fit as well as they should.
Our retainers are designed to hold your teeth in place and prevent them from shifting. Their purpose is not to close gaps in your teeth or straighten them, as aligners would.  If you have lost or broken your original retainer and your teeth have shifted, it is recommended to return to your orthodontist or dentist for assistance.
Your retainer is made by state-of-the-art computerized equipment. This assures the product will fit perfectly according to the impression you send us. As a result, over 98% of our retainers fit perfectly. However, if for some reason your retainer does NOT fit properly, don't panic. There are two possibilities.
First, it is common for a new retainer to feel tight when you first receive it. This tightness is caused by slight movement of your teeth that occurs between the time you take your impression and the time you receive your new retainer. Give it a couple of days and your teeth will realign to the shape of the retainer making it fit comfortably.
The second possibility, is that something went wrong while taking the impression. If we don't have an adequate impression of your teeth, the result is a retainer that will not fit properly. In this case, it may be necessary to take a new impression. This possibility is why we urge getting approval on your self taken impression before sending it back. Once you take a new impression, please send it back with the retainer that didn't fit, along with the old impression. We'll then make a new retainer from the new impression and promptly ship it back to you. 
Lastly, don't stress, you're eligible for a free replacement, for any defective product within 60-days of receipt.
Your new retainer will not fit correctly if you still have any additional material* on the tooth surface. If you currently have any of these on your teeth, you will have to have them removed before you take an impression.
*If you have a bonded permanent retainer on your top or bottom teeth, ClearRetain can still fabricate a clear retainer for you.
If your retainer cracks or breaks due to normal usage within the first 60 days (120 days for premium retainers), we will replace it for free using your existing impression or Filed Smile. 
Keep in mind, your retainer's lifespan can be shortened considerably if you grind or clench your teeth while wearing at night. If your retainer has cracked and you would like a replacement, please consider getting a grind guard retainer. This product will of course still retain your teeth, but is a bit thicker and will take more clenching and grinding.
Contact us and we'll have you send the cracked retainer back with your impression for a replacement*
*Our warranty does not cover products that have been chewed up by pets or products that have been lost
At ClearRetain, we make all of our retainers with the finest orthodontic grade materials. This assures you have the most durable and stain-resistant product.
Retainers can last months or years depending on how hard you bite, if you grind your teeth, and how well you clean and care for your retainer.

ClearRetain offers solutions for those variables, too! Check out our other products here.
Our retainers are custom made to prevent your teeth from shifting. If you have loose fillings, crowns, veneers, bridges, or significant tooth decay... wearing retainers, night guards, or other oral appliances can potentially exacerbate an exsisting issue. If you have any concerns regarding these potential risks, please give us a call at 801-610-1358
The purpose of a retainer is to protect the expensive investment you made to have a beautiful smile. If you lose or break your retainer then you can immediately use your backup retainers to prevent your teeth from shifting at all, for continued protection of your investment.